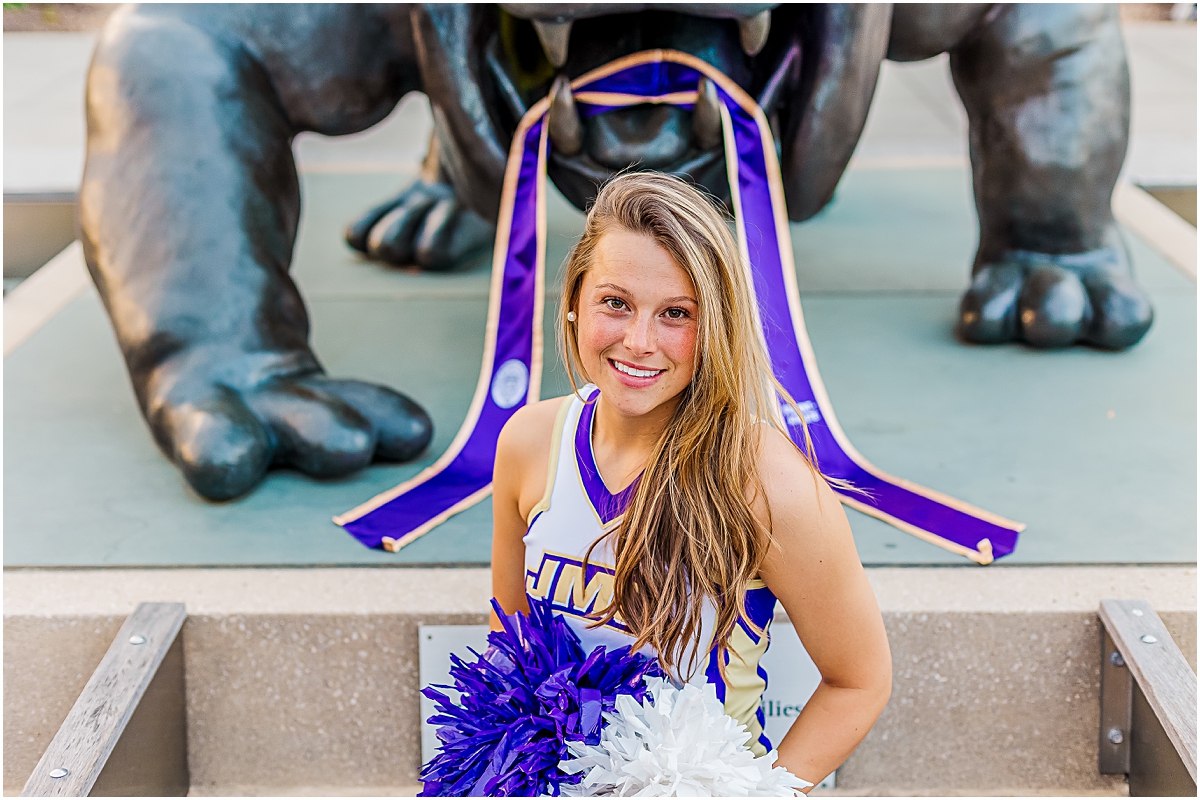 This senior photography session was so much fun! Savannah's graduation from James Madison University was a moment worth celebrating. This photo session would be extra fun and have some amazing photos, because she's a cheerleader! We were joined by Savannah's sister and also her best friend/fellow cheerleader to add to the fun and make Savannah smile!
There's been quite a few changes to the JMU campus recently. There are so many wonderful places to capture memories for Savannah! Savannah already knew some of the beautiful locations that she wanted photos at, so we got to work!
We started at the JMU Quad/Bluestone area while we waited for Savannah's friends to show up. There are beautiful white columns everywhere! She started with the iconic white dress and stole. Against the white columns and bricks in the area, she looked gorgeous and sophisticated!
Then, once her friend arrived she changed into her full graduation gown and stole. We started with a few shots of her individually before adding her friend and sister! They were so much fun and full of laughter and life! (Pro Tip for Graduation Gowns: They wrinkle and crease easily, so make sure to steam or iron the wrinkles from your graduation gown before your session for a clean look!)
Next we all moved to the water fountain. There's usually a line to wait in to get your photos taken in front of the fountain, but our wait was a breeze and I was able to get some great shots of them with the Carrier Library in the background. We celebrated with a happy jump in front of the fountain with the love of her friends!
One of the main attractions for senior photography at JMU is getting photos in front of Wilson Hall. It was fairly tricky to do when the quad is full of other photographers with their graduates (and not to mention the other students) but we were able to capture some absolutely stunning photos of Savannah there!
Then we were off to the cheerleader athletic center to get changed for some of the best photos of the session: The field cheerleading pictures! The Bridgeforth Stadium is huge, with supersized screens and beautiful turf! It was hard to know where to start, but the colorful scoreboard with the backdrop of the field seemed like a good place to show off those tassels and caps! This portion of the photos was made even more lively by her friend and teammate, Tori! And of course the pom-poms!
Lastly, no senior photography session at the college is complete without the latest addition to the Duke Dog family. Weighing more than one ton is the massive bronze statue of the snarling Duke Dog. It is the perfect spot for any student to show their school pride, and the perfect way to end our time together!
Savannah, thank you so much for being such a sweet student to work with. And, Virginia, thank you for allowing me the chance to meet your daughters and her friend!
Also, as a special note – Congrats to Savannah and her fiance, Clayton, on their upcoming wedding!
---
Bessie Black with Bessie Black Photography is just waiting to capture your moments on camera! If you love what you see and want some amazing wedding pictures of your own, contact me!
If you liked this blog post, check out:
Brooke's High School Senior Session
Ashleigh + Zach Wedding Day
Senior + Graduate Photo Information
More about Bessie